Meet SciryL
SciryL, Lyrics backwards,is a poet, rapper, singer, lyrical genius.
His real name Brian Henry. He is Harlem born and raised.

He started writing in the 6th grade and has not looked back since. He was introduced to the poetry scene at the age of 17, when his High school English teacher noticed his talent for writing and persuaded him to take part in the City Wide slam held every year by Urban Word NYC. 
This was a turning point in his life. In 2005 he was chosen from 500 poets citywide to be part of the Urban Word team. The 6 person team went to the National Slam Competition, held every year by Brave New Voices. They went on to take 1st place, making them number 1 in the country in 2005 at the tender age of 17. 
This experience changed SciryL's life. Being around so many different people, cultures and attitudes, enabled him to feed from the new influences which surrounded him and he began taking his craft as a skilled poet and MC seriously. 
He was most recently featured on BET's 106 and Park as the Wild Out Wednesday Spotlight Artist.
He was also the main artist in Pepsi's Refresh Project airing on VH1 & MTV for which he wrote, sang, rhymed and was the musical director for the piece,
It's safe to say that you'll be seeing a lot more of him…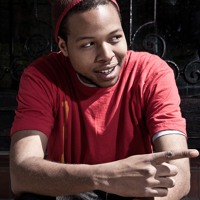 SciryL is constantly performing, writing, touring, recording, teaching, and living for music.
He has performed all around New York City, including the Highline Ballroom, SOB's, BAM (Brooklyn Academy of Music) rocking with Dead Prez and Arrested Development,The Nuyorican Poets Cafe, and recently at the Apollo Theatre, opening up the 2010 Urban Word NYC finals. 

SciryL grew up listening to everything from James Brown to Nas, Run DMC, Sade, Nina Simone, Mc Lyte, Bob Dylan and Bob Marley.
His ears and mind always open to anything new, fresh and beautiful. 
One of his biggest influences is Abiondun Oyewole, of the Last Poets. For the past 30 years, he has an open house, at his own home in Harlem, where you can eat, drink, read poetry, talk, love and be beautiful. SciryL is practically a fixture there every Sunday, enjoying the vibes and breathing in the energy. 
SciryL has already written and recorded 3 albums and continues to work on new material, he says:
"I see so many young poets and musicians step onto stage for the first time looking exactly like I did, and I still feel that energy in me, from them. Every new poet I hear brings me back to that first day, and that is what keeps this passion burning for our people, and our words".

Follow SciryL on Twitter

On Facebook

SoundCloud Page with Latest Music from SciryL